Black Friday 2022 is nearly here! From November 25 to November 27, you can look forward to amazing deals from your favourite jewellery brand Alfred & Co. London. In today's post, we're going to talk about Black Friday deals and how they've changed over the years. But first, let's discuss what Black Friday is and how it has influenced shopping behaviour. And the best part of it, Alfred & Co. London has a special promo for all its trusted customers. 15% off all orders below £50.00, 20% off orders £50.00-£100.00 and a whopping 25% off all orders above £100.00!*** That's not to even mention the free delivery we offer on all of our jewellery – we're practically giving our jewellery away!
***ONLY WHILST STOCKS LAST!
Where did Black Friday even come from?
The term Black Friday has its origins in the 1950s when factory managers started using it as a name for the day after Thanksgiving. They called it Black Friday because many workers decided to take advantage of their holiday weekend by claiming to be sick and staying home from work. Years later, Philadelphia traffic cops started calling the day after Thanksgiving "Black Friday" when there was a lot of traffic on the roads due to holiday shopping. People who lived in Philadelphia started to use this term in their conversations, and then it spread across the country.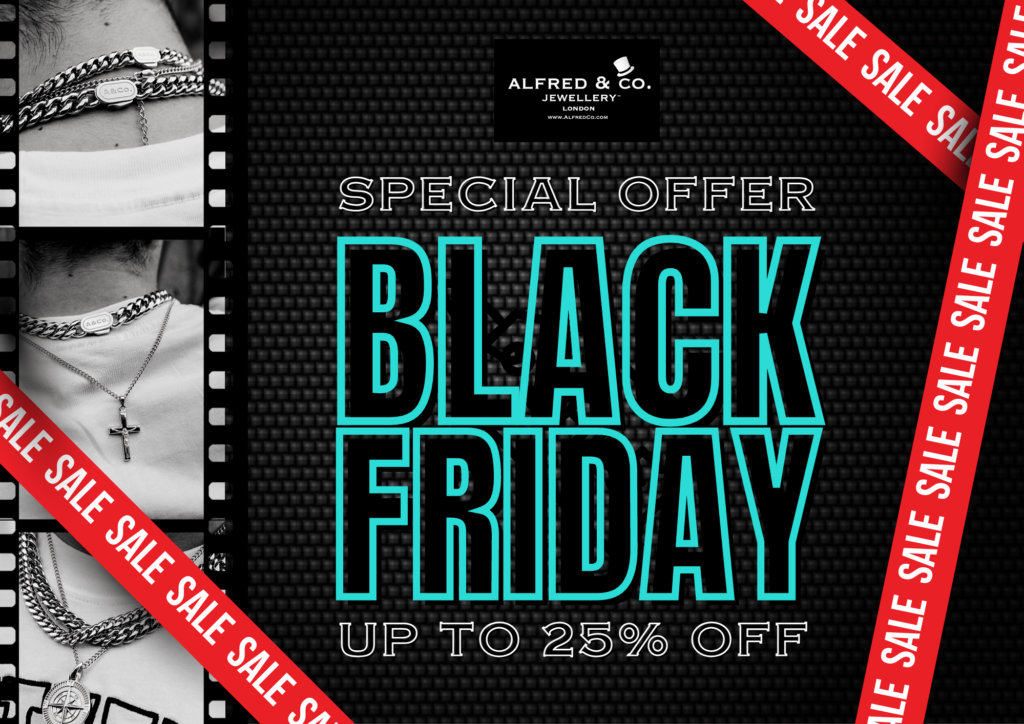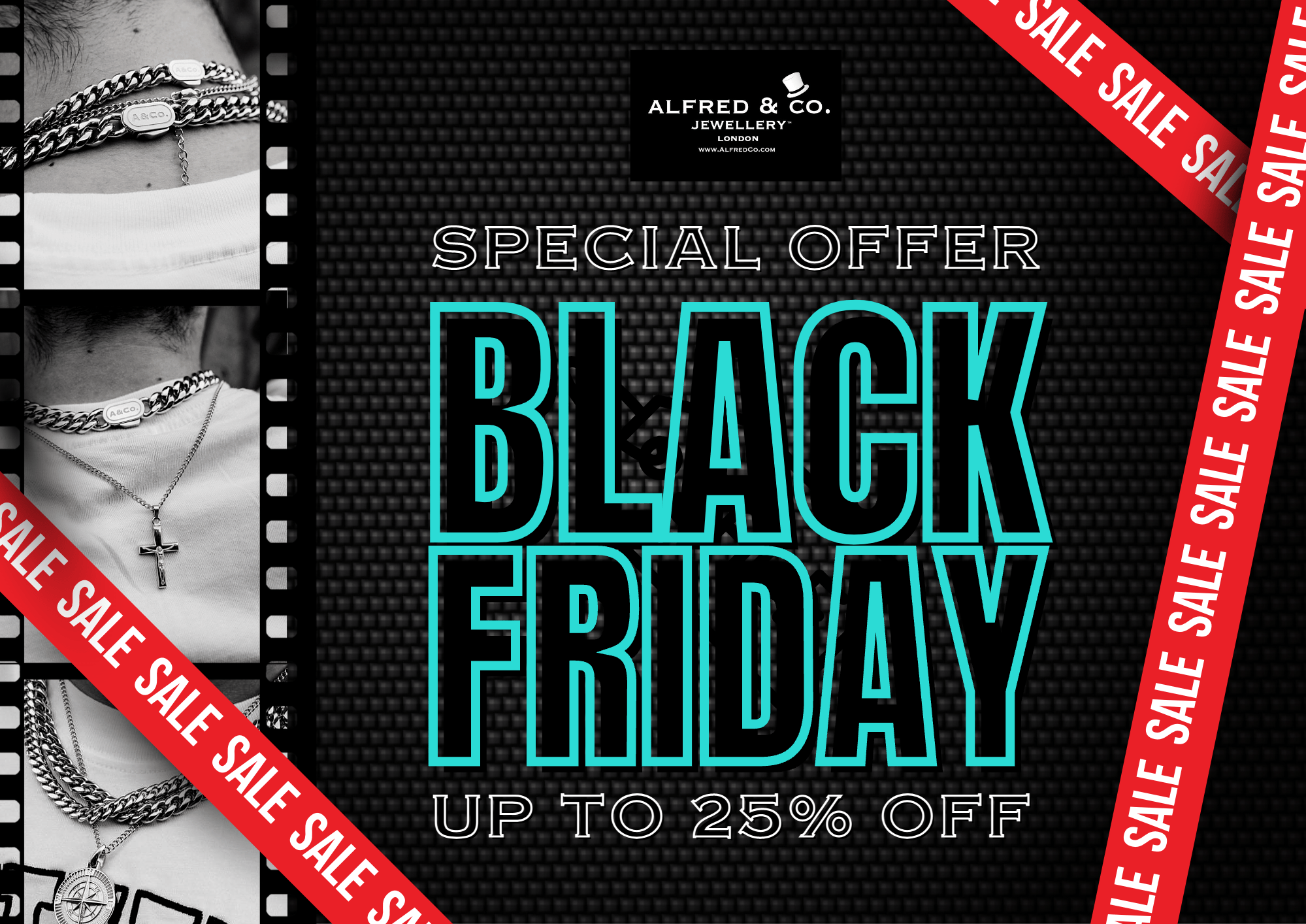 How has Black Friday changed the way we shop?
The shopping phenomenon of Black Friday has significantly increased profits for businesses in recent years, allowing for extreme growth year to year. In 2020, more people searched for deals specifically on Black Friday than in 2019. Also, 51% of shoppers prefer to spread out their purchasing during this busy time. We're delighted to inform you that we have several jewellery Black Friday deals running from the 25th until the 27th of November. Although we usually only provide deals and discounts to our most valued customers, for this weekend only we are giving some HUGE jewellery discounts!
Black Friday deals by Alfred & Co. London
Although many of you are already familiar with our jewellery collection, we want to present our top picks for fall and winter. It's time to give your favourite jewellery a new home. We've got the perfect pieces to bring out your inner fashionista, available at prices you can't pass up. Start your Black Friday shopping right away! Scroll down to explore the latest jewellery designs, available at cut prices.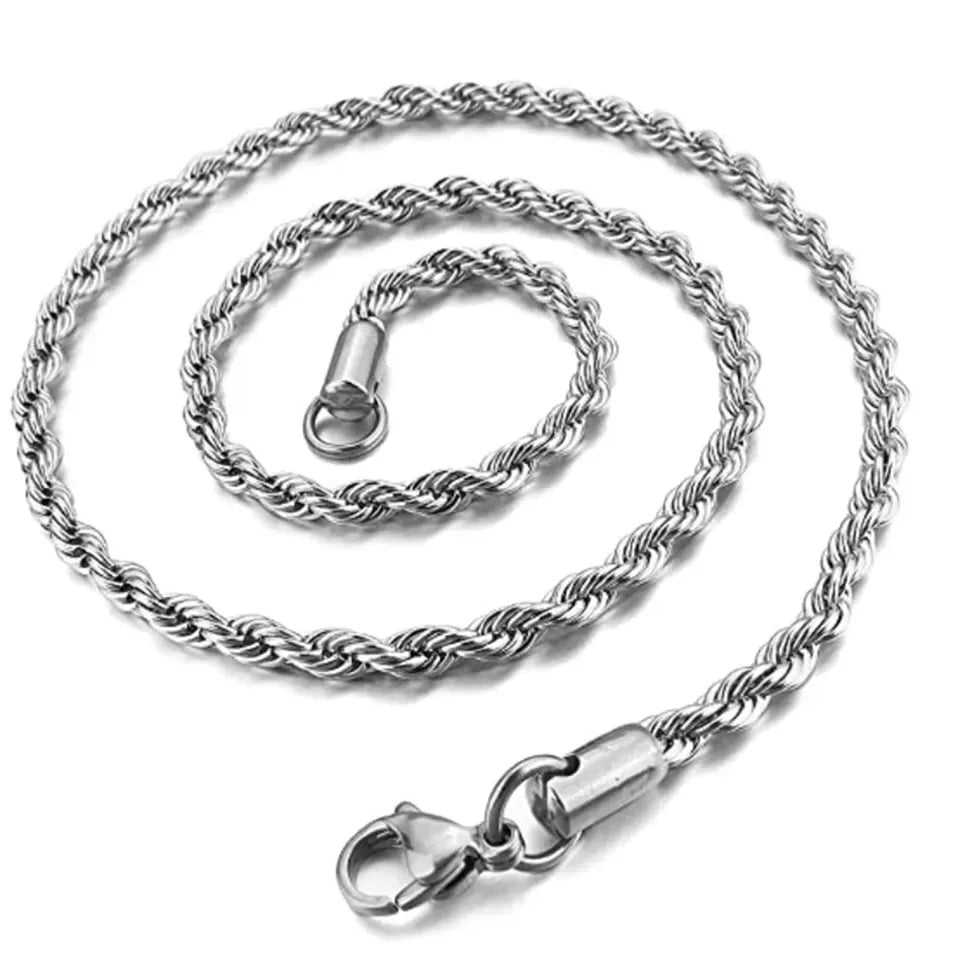 Silver Rope Necklace
The impressive Rope chain necklace is a statement piece for any man (and woman) who love to stand out from the crowd. With an elegant twisted design, this silver necklace is perfect for everyday wear or special events. This rope design necklace is a stunning silver chain and features a uniquely twisted rope design on a 7.5mm wide chain. It's designed in London and comes with a 2-year warranty! The necklace is completely waterproof, has a premium reinforced lobster clasp and the best thing is: It will arrive at your doorstep in no time! Don't forget to use code BLACK and get 20% off this gorgeous piece of jewellery that will make you feel like a rock star!
Silver Compass Ring for Man
Staying true to Alfred & Co. London style, this stunning compass ring is the perfect gift for any explorer. It is made from sterling silver, making it a great piece to wear every day. The band is sleek and slender, for smooth looks on the move. Wear it with a classic outfit for a subtle style statement, or dress it up with something more unique to really make an impression. The ring is available in three sizes: small (US 8, UK Q), medium (US 10, UK T 1/2) or large (US 12, UK Y).
Weave Silver Bracelet
Our weave silver bracelet is a great piece for everyday wear. With its beautiful dynamic geometric appearance, it will be sure to bring many compliments. It is made of high-quality silver with a highly polished finish. This stylish silver bracelet comes in a width of 5 mm and it can be worn in 7.5 inches, 8.0 inches or 8.5 inches in length with an extender included so that it fits nicely on most wrists. It's suitable for both men and women, so if you have any doubts about getting an early Christmas gift, this could be a great choice (and at an affordable price too!).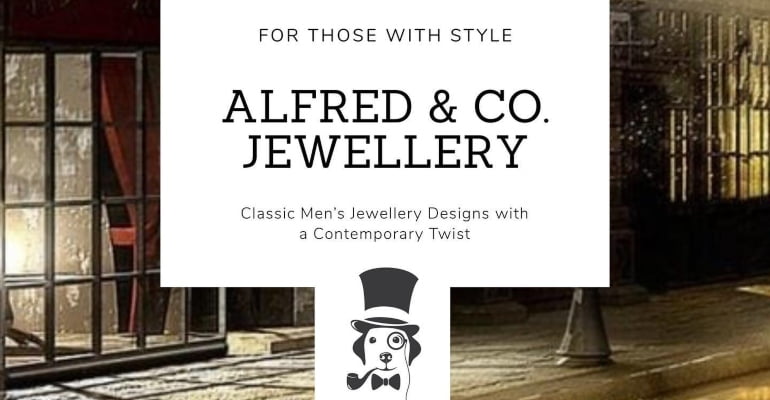 Chose Alfred & Co. London and go on your next shopping spree
Alfred & Co. London is the leading supplier of fashionable affordable jewellery. We take pride in offering stylish, on-trend designs that reflect the latest trends in jewellery design. Our global presence allows us to deliver our products right to your door via overnight shipping anywhere in the world. To get the best Black Friday deals, simply add your piece to cart and checkout during the BF weekend – the discount will be automatically added. And if it's a gift, don't forget to add a jewellery pouch and box to your order to make it extra special! It's this attention to serving our customers well that makes them return for more and refer their friends. You can read what some of our customers have to say about us. Get shopping and elevate your style game!
TRENDING JEWELLERY