We think it's time for men's rings to get the attention they deserve. This small piece of jewellery has come a long way from the Viking Age. They're not just for royalty and can be worn by anyone! While rings are often seen as symbols of marriage, more and more men are wearing them as fashion statements. The small band that adorns a man's finger may be meant to announce that he's married, but they have been worn by men to symbolize wealth, rank, and marital status since antiquity. This is why Alfred & Co. London has a variety of pieces you can choose from, and we created a guide on how to wear men's rings. Keep reading to find out more.
How to wear men's rings 101
Wearing rings doesn't just have to be about fashion. Speaking from experience, we know that wearing a ring like a wedding band or an engagement ring can say a lot about your personality and style; it's like a little secret message only you know. There are no hard and fast rules regarding which hand to wear a ring on. Culture, tradition and personal preference play key roles in this decision. The right hand is often more active and dominant than the left. However, in some cultures, it is unlucky to have rings on both hands or the left hand at all. This is quite broad thinking that shouldn't get in the way of your personal aesthetic. If you want to start wearing one, we recommend a silver band ring, a classic that can be worn for many years.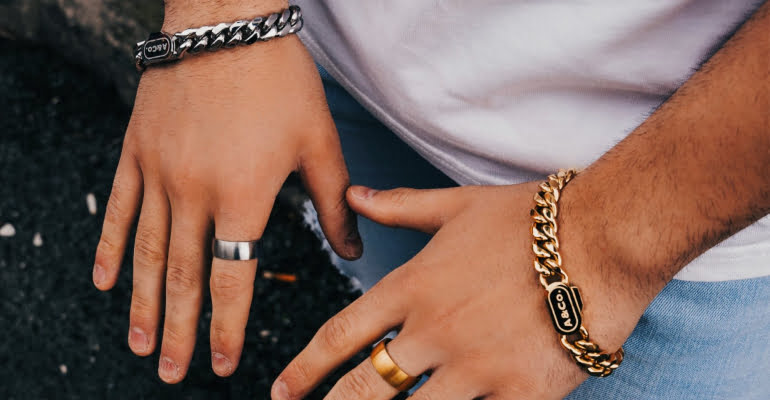 Match your jewellery to your skin tone
Rules are made to be broken—but that doesn't mean they have to be. Wearing matching metals in your jewellery can keep your look clean and uncluttered. It's important to wear clothing that fits your style and matches your personality, and the same goes for jewellery.
Wearing 1 ring made of both silver and gold gives you permission to choose any colour for the other rings, bracelets, or watches in your collection. It makes it feel like a deliberate choice instead of an accident. Speaking of metals… matching your jewellery to your skin tone is another way to make sure that your look isn't too distracting, and that everything matches. For a cool skin tone, opt for one of our silver eagle eye rings, and for warm-toned skin, chose our gold compass ring.
Keep things simple, but don't be afraid to have fun
Just like with men's accessories, less is more. If you aren't sure you can pull off a large number of man bling items, it's better to start with a smaller number of accessories. Focus your attention on one hand and wear your rings on fingers that aren't touching. Visual weight is important when it comes to dressing. Make sure one side of your outfit is slightly heavier than the other side. If you wear a wedding ring and an engagement ring, try wearing one on each hand. The idea is to not have both hands/wrists look equally adorned. Also, keep an "eye" on the balance. If you have short fingers, a large ring will look proportionate – if your hands are long and thin, a smaller ring will be more proportional.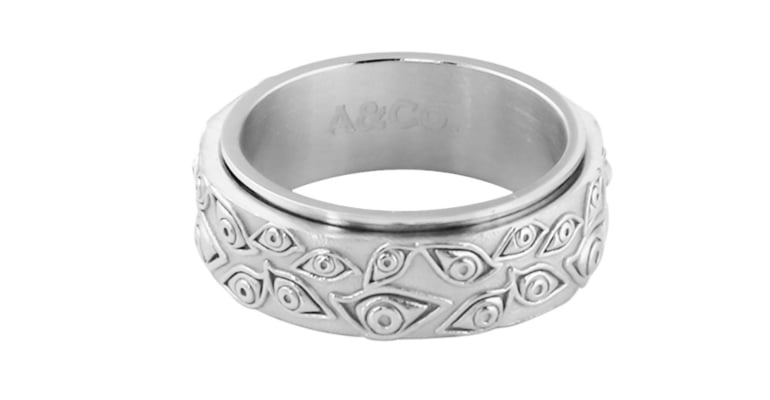 Wear a ring and tell your story with
Signet rings or simple bands are just two of the many kinds of rings you can choose from. Wearing and styling rings is a lifestyle choice. You don't have to wear a ring—or any other accessory—just because everyone else is doing it. You should only wear something if you instinctively like how it looks and fits. If there's a ring that expresses your character and tells your story, though, you won't have any trouble recognizing it. Take the first steps and tell your own story. To get some more info, check out our Instagram page. You'll find many satisfied customers that enjoyed wearing our pieces.
Alfred & Co. London offers the best quality jewellery
Whether you are purchasing a piece of jewellery for yourself or your loved one, you are at the right place. We have a collection of quality pieces at great prices. All our jewellery is tarnish, water and sweatproof and we offer a lifetime warranty. As we have a vast variety of bracelets, necklaces and men's rings on our website, you might find yourself confused about picking what the best fit for your loved one- however, we also offer gift cards from £10 to £100. A great choice right? You can rely on our fast delivery and fantastic customer service from our team. Check out our website and find out what Alfred & Co. London has to offer.