Are you looking for guidance on the length of necklace or chain you should buy? The below illustration provides an approximate necklace length guide for both men and women. Ultimately it depends on personal preference and where you would like a necklace or chain to sit.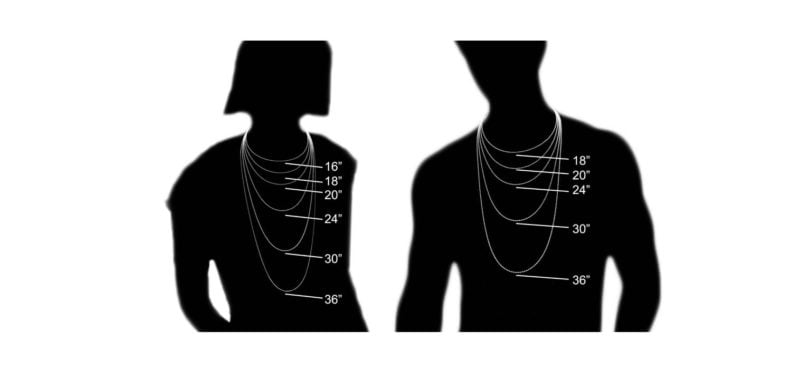 You can use the above necklace size guide to decide which length necklace you would prefer. View our full range of silver necklaces, silver chains, mens silver chains and ladies silver necklaces today. If you're not looking for a sterling silver chain, then we also supply a wide selection of mens necklaces and mens chains. All of our necklaces and chains come with a luxury Alfred & Co. Jewellery box.
How long should a men's necklace chain be?
This is a question we get asked quite frequently, but unfortunately there isn't one straightforward answer to this; this is simply because everyone is different and people have different tastes and styles – thank goodness as well because wouldn't it be boring if we all looked and acted the same?! Typically we recommend that a men's necklace should be a minimum of 18 inches, but if you are considered tall or you would like the necklace to hang with a more relaxed look and feel, then an even longer length would be better. If you're unsure, we would recommend either a 20 inch or 22 inch length necklace length for men.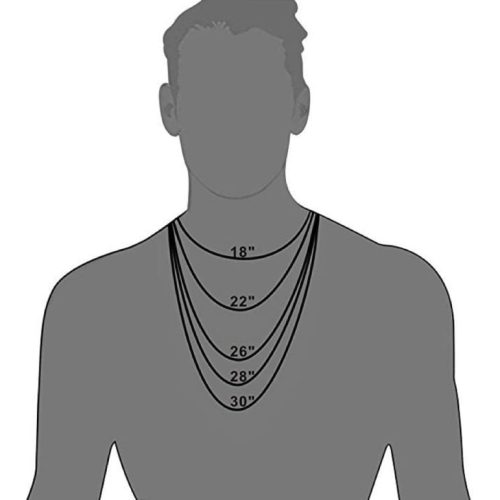 What is the best length for a women's necklace?
The best women's necklace length again comes down to personal preference. If you are wanting to wear your necklace so that it is more visible we would always recommend a shorter length of around 16 inches. If you are looking for a more casual and relaxed look then a longer necklace length would be more appropriate. Ultimately though, you can never have too many necklaces, so it is a good idea to mix up your necklace lengths so that you have a mixture to choose from depending on how you feel and what looks best on the day.