Men's bracelets have become a must-have accessory that can effortlessly elevate your style and make a impactful statement. If you're looking to add a touch of elegance and charisma to your ensemble then the right men's bracelet is a very good place to start. From classic designs to modern twists, there is a wide variety of men's bracelets to choose from. Here we will explore different bracelet designs, the ideal length and how to pair them with outfits.
1. Different Bracelet Designs: Finding Your Signature Style
When it comes to men's bracelets, the array of designs available can be both exciting and overwhelming. Each design carries its own unique charm, allowing you to find a bracelet that resonates with your personality and style. Here are some popular designs you'll come across:
a) Curb Bracelet: The popular curb bracelet features interlocking links with a flat, slightly twisted design, creating a classic and versatile look. It's smooth and sturdy appearance makes it a great everyday accessory that can complement both casual and formal attire. It's the classic design of a curb bracelet which makes it a firm favourite with fashion conscious men.
b) Cuban Bracelet: Inspired by the Cuban chain, this design is characterized by thick, closely linked chains that emanate luxury and opulence. A cuban bracelet is an ideal choice for those who want a bold statement piece to add a touch of extravagance to their outfit.
c) Figaro Bracelet: Combining elongated links with shorter ones, the figaro bracelet exudes a timeless and sophisticated appeal. This design strikes the perfect balance between elegance and subtlety, making it suitable for various occasions.
d) Box Bracelet: As the name suggests, box bracelets consist of square-shaped links, creating a neat and structured appearance. This design is ideal for those who prefer a clean and modern look that can easily transition from day to night.
e) Rope Bracelet: Featuring twisted metal strands that resemble a rope, this design exudes a sense of adventure and rugged charm. A rope bracelet is an excellent choice for those seeking a bohemian or nautical-inspired accessory.
WINNER: Curb bracelets are the best overall men's bracelet design.
RUNNER UP: The Cuban bracelet will always be a popular and sought after men's bracelet design.
2. The Best Length for a Men's Bracelet
Getting the right length for your men's bracelet is essential for achieving a comfortable and stylish fit. The standard bracelet length for men is typically around 8 to 9 inches (20 to 23 centimeters). However, wrist sizes can vary, so it's crucial to measure your wrist accurately before making a purchase.
To determine the best length for your bracelet, follow these simple steps:
a) Measure Your Wrist: Use a flexible tape measure or a piece of string to measure the circumference of your wrist just below the wrist bone.
b) Add Your Desired Fit: Depending on your comfort level, add an extra 0.5 to 1 inch (1 to 2.5 centimeters) to the measurement. This additional length allows for ease of movement and prevents the bracelet from being too tight.
c) Consider Bracelet Thickness: Keep in mind that thicker bracelets may fit more snugly on your wrist, so you might need to add a bit more length for a comfortable fit.
Alfred & Co. London provides detailed sizing information for their bracelets, ensuring that you find the perfect fit for your wrist.
3. The Best Width for a Men's Bracelet
The width of a bracelet can significantly impact its overall appearance and how it complements a man's wrist. When it comes to selecting the best width for a men's bracelet, a balance between style and comfort is essential.
For a classic and versatile look, a medium-width bracelet, typically around 4 to 8 millimeters, works well. This width is suitable for various occasions and outfits, from casual to formal.
If you prefer a bold and statement-making accessory, consider a wider bracelet, ranging from 10 to 15 millimeters or more. These wider bracelets can add a touch of extravagance and flair to your ensemble.
On the other hand, if you prefer a subtle and minimalistic look, opt for a slim bracelet with a width of 2 to 4 millimeters.
Ultimately, the best width for a men's bracelet is a matter of personal preference and style, ensuring it fits comfortably and complements your individual taste.
WINNER: 4-6mm is the preferred width for a men's bracelet
RUNNER UP: 1-3mm for a minimalistic look
4. What Outfits Work Best with Men's Bracelets
One of the fantastic aspects of men's bracelets is their versatility. They can effortlessly enhance a wide range of outfits, from casual to formal. Here are some outfit ideas for styling your men's bracelet:
a) Casual Attire: For a laid-back and stylish look, consider pairing curb bracelet with jeans and a t-shirt. A beaded bracelet stack can also add a bohemian finish to a casual outfit.
b) Formal Wear: Elevate your formal attire by adding a classic silver or gold bracelet. Whether you're attending a wedding or a business event, a luxurious bracelet can subtly enhance your overall appearance. Here we would choose either our 2mm Minimal gold bracelet or the 2mm Minimal silver bracelet.
c) Summer Vibes: Embrace the summer vibes by wearing either a rope bracelet or pearl bracelet with shorts and a button-up shirt. This combination exudes a relaxed and beachy feel, perfect for chilling on those hot sunny days.
d) Office Chic: In a professional setting, opt for a sleek and minimalistic bracelet, such as the Minimal, Thin ice or box design. These styles add a touch of sophistication without being too distracting.
5. How to Care for Your Men's Bracelet
To ensure that your men's bracelet remains as dazzling as the day you purchased it, it's essential to follow proper care guidelines. Different materials require different care methods, so let's dive into some general care tips:
a) Leather Bracelets: Avoid exposing leather bracelets to water or excessive moisture, as it can damage the material. If your bracelet gets wet, pat it dry with a soft cloth. To keep the leather supple and prevent cracking, apply a leather conditioner occasionally.
b) Metal Bracelets: Stainless steel, silver, and gold bracelets can be cleaned with a soft, lint-free cloth to remove dirt and oils. Avoid using abrasive materials or harsh chemicals, as they may scratch or tarnish the metal.
c) Beaded Bracelets: Beaded bracelets can be delicate, so handle them with care to prevent any breakage. Avoid submerging them in water and keep them away from prolonged exposure to direct sunlight.
d) Engravable Bracelets: If your bracelet has an engraving, take extra care when cleaning to avoid damaging the inscription. A soft cloth should be sufficient to maintain its shine.
Remember to store your men's bracelet separately from other jewelry to prevent scratches and tangling.
6. Why Choose Alfred & Co. London for Your Men's Bracelet
Now that we've explored the world of men's bracelets and how to style and care for them, let's discuss why Alfred & Co. London should be your ultimate destination for finding the perfect wrist piece.
a) Craftsmanship and Quality: Alfred & Co. London takes pride in crafting their bracelets with the utmost attention to detail. Each piece is made with premium materials, ensuring durability and longevity.
b) Diverse Selection: Whether you're seeking a classic bracelet, a sophisticated silver piece, or a modern cuban design, Alfred & Co. London offers a diverse collection to suit all tastes and preferences.
c) Customization Options: With engravable bracelets available, you can add a personal touch to your accessory, making it a meaningful and cherished possession. Perfect for those special gifts!
d) Hassle-Free Sizing: Alfred & Co. London provides comprehensive sizing information for their bracelets, making it easy for you to find the perfect fit for your wrist. A lot of our bracelet's also come with an extender attached – enabling you to choose your fit for the day!
e) Customer Satisfaction: With a loyal customer base and 1000s of positive reviews, Alfred & Co. London has earned a reputation for excellent customer service and satisfaction worldwide.
To summarise, men's bracelets are more than just accessories; they are expressions of style and personality. Whether you prefer a classic curb bracelet or a bold cuban design, finding the perfect men's bracelet at Alfred & Co. London is an effortless experience. Our commitment to craftsmanship, extensive selection, and dedication to customer satisfaction make us the ultimate destination for your men's bracelet needs. So why wait? Elevate your style today.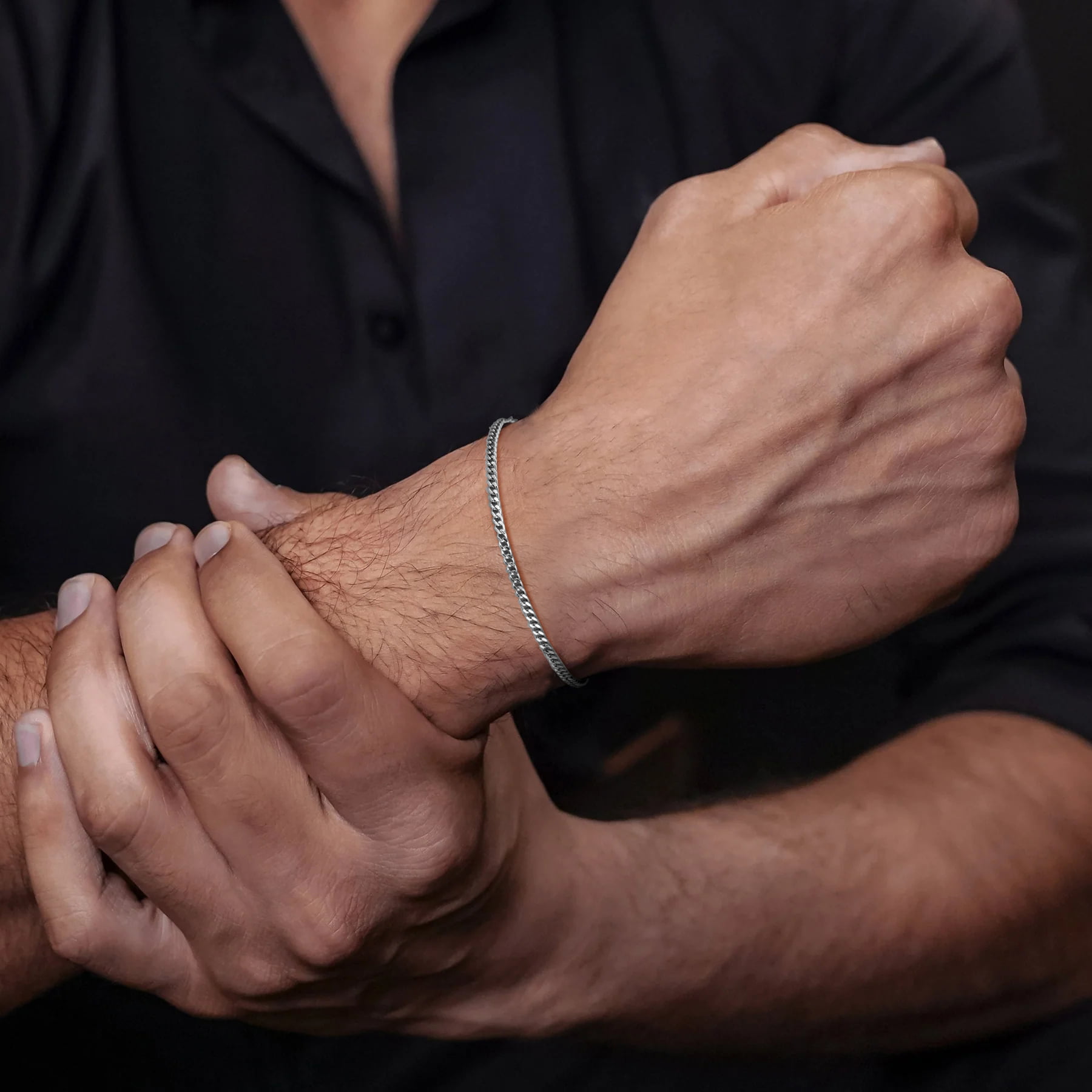 Mens Bracelets
Elevate your look with a stylish men's bracelet.
With our cutting edge designs, our stylish bracelets will complete your appearance and make sure you always look on point.
Elevate your style!