Accessories play a significant role in enhancing men's style, and one accessory that has gained immense popularity in recent times is the mens chain necklace. A well-chosen chain can add a touch of sophistication, personality, and masculinity to any attire. In this comprehensive guide, we will explore different types of men's chains and necklaces, their significance, and how to style them effortlessly.
Understanding Different Mens Chain Styles:
When it comes to men's chains, there is a wide range of styles to choose from, each with its own unique characteristics. Let's explore some popular chain styles available to choose from:
1) Curb Chains: Curb chains are classic and timeless, featuring a series of uniform links that lay flat when worn. They offer a sophisticated and versatile look. A curb chain style is the most popular necklace for men due to its understated and timeless appeal. Some of the mens curb chains we offer are below: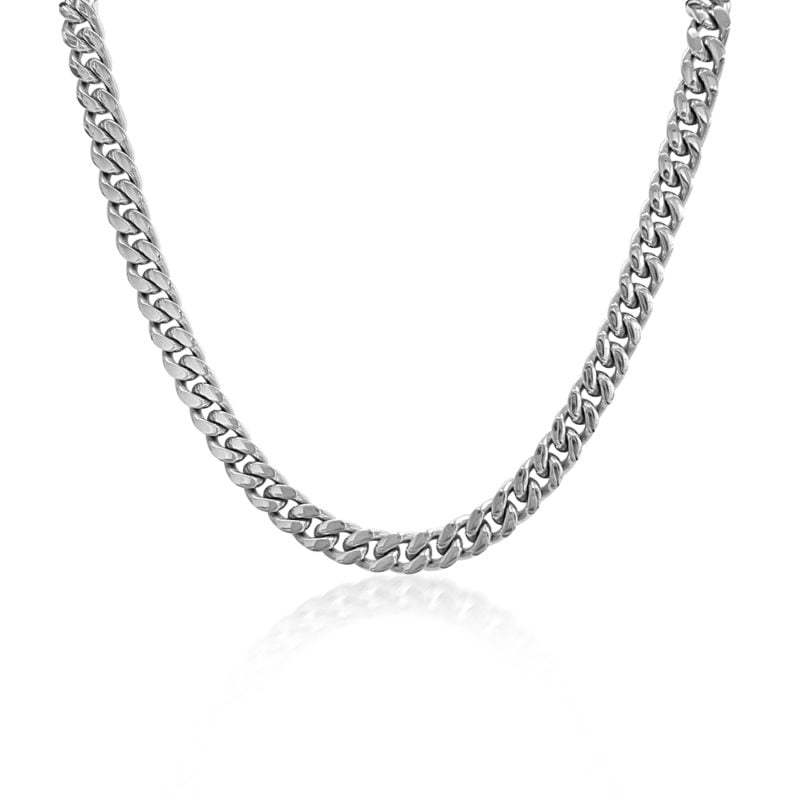 CURB CHAIN (SILVER) | 7mm Width | ice©
✓Premium Curb Necklace
✓7mm Width Chain
✓Premium Lobster Clasp
✓100% Waterproof
✓100% Sweatproof
✓100% Tarnishproof
✓Fashionable & Stylish – Elevate Your Style
✓Fast Delivery
✓Excellent Gift For Loved Ones
✓2 Year Warranty 
✓Designed in London
If you're looking for a solid necklace, which can be worn anytime of day and is both rugged and sleek, this beautiful silver chain makes the perfect choice. The ice©, is for those who have inner strength, those who remain cool, calm & collected in even the toughest of situations; most importantly the ice© is for those who like to feel good, but look even better!
Please note; the 16 inch length is a very small fit (choker).
2) Figaro Chains: Figaro chains are characterized by a pattern of three small links followed by one elongated link. This design creates an eye-catching look, perfect for both casual and formal occasions. The 5mm width Figaro Chain from Alfred & Co. London combines durability and style effortlessly.
3) Rope Chains: Rope chains are known for their intricate twisting pattern, resembling a rope. These chains are versatile and can be worn on their own or with a pendant. We offer Rope chains in a range of widths and lengths.
4) Belcher Chains: Belcher chains, also known as rolo chains, feature uniform and symmetrical links. They offer a robust, sleek and masculine look.
5) Cuban Chains; now how could we possible talk about men's necklaces without mentioning the popular Cuban chain. Cuban necklaces, also known as Cuban link chains, are a vibrant and iconic accessory that exudes a sense of style, confidence, and urban flair.
The thickness of the Cuban chain adds to its commanding presence, making it an ideal accessory for the modern man who appreciates both fashion and individuality. It's a versatile piece that can be worn solo or paired with other necklaces to create a unique layered look, giving you the freedom to express your personal style. Smooth, sleek and bold and crafted with meticulous attention to detail, these necklaces are a must-have for fashion-forward men.
WINNER: Curb chains are the most popular chain style for men.
RUNNER UP: Cuban chains are a very popular choice of men's chains and finish a close 2nd!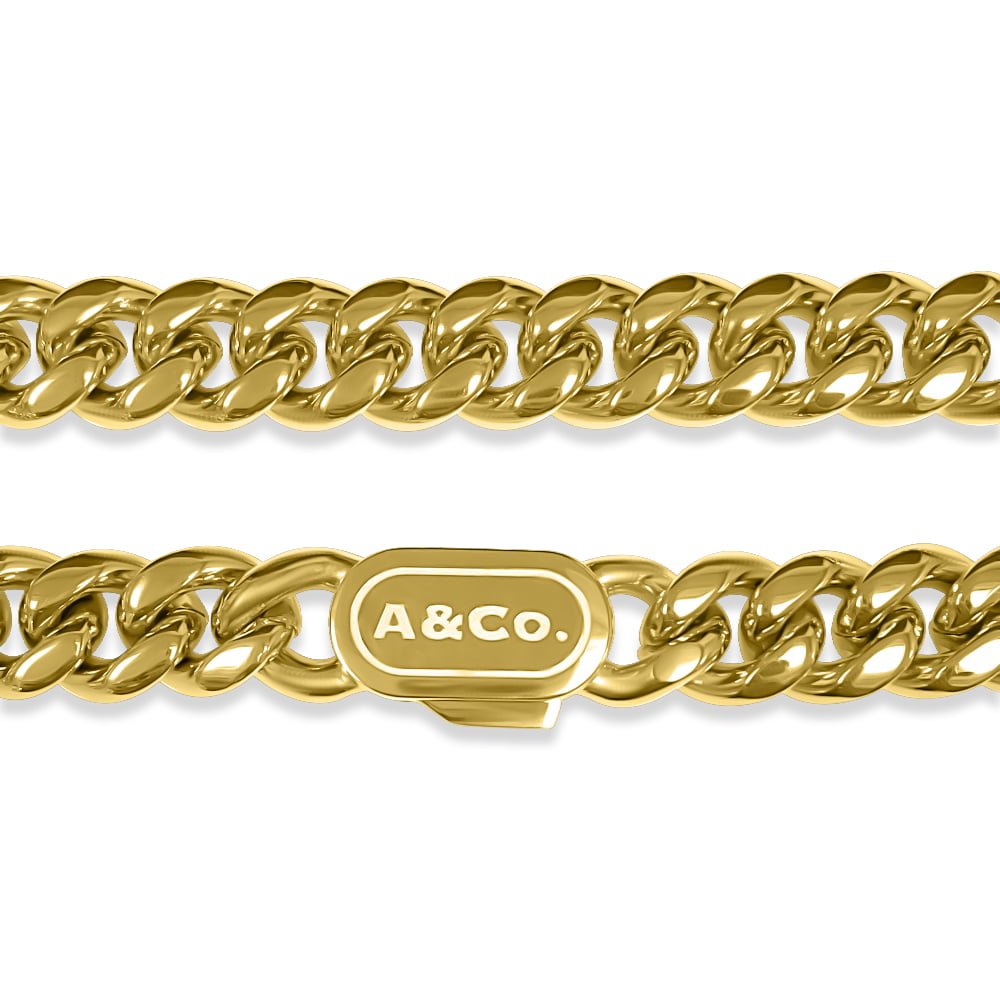 Cuban Chains
Show them who's boss with a stylish Cuban chain necklace by Alfred & Co. London.
If you're looking for a heavy or chunky necklace chain then one of our signature Cuban link chains
makes the perfect choice.
Elevate your style game.
The Best Chain Length For Men:
Selecting the appropriate chain length is crucial to ensure a comfortable fit and complement your style. The following are popular chain lengths for men:
a) 18 inches: An 18-inch chain typically rests just above the collarbone. It's a popular choice for those who prefer a shorter and more discreet necklace. We would usually recommend an 18 inch length for anyone 5 feet 6 inches or below in height.
b) 20-22 inches: These chain lengths fall at the collarbone or slightly below, offering a balanced and versatile look suitable for most necklines. 20 inches (50.80cm) is the average length chain for a man.
c) 24-30 inches: Longer chains, ranging from 24 to 30 inches, create a statement look. They are perfect for layering or wearing with open-collar shirts. Also great for those bigger fellas – anyone 6 foot 4 and over.
You can can use the size guide below to get an idea of the mens necklace length you should choose: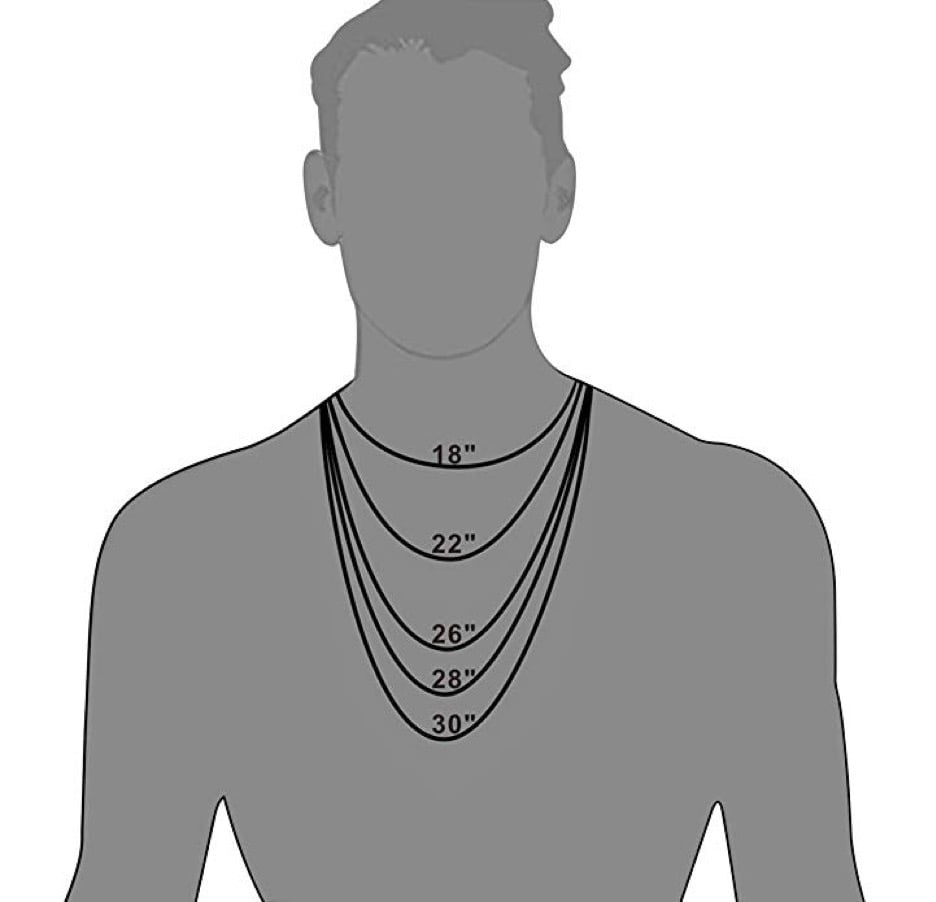 Alternatively here's one of the guys, Andy, from Alfred & Co. London talking about why size really does matter…when it comes to men's necklaces!
WINNER: 20 Inches is the most popular men's chain length
RUNNER UP: 18 Inches
Which Width is Best For a Men's Chain?
When choosing the best chain width you should go for, several factors need to be considered to ensure a stylish and comfortable look. The ideal chain width typically ranges from 2mm to 7mm, striking a perfect balance between subtlety and prominence.
For men with smaller frames or those seeking a discreet minimalistic necklace style, a 2mm – 4mm width chain would be a perfect choice. These thinner width chains exude sophistication and elegance while effortlessly complementing both casual and formal attire.
On the other hand, men with larger builds or a preference for a bolder statement piece may opt for a 4mm – 7mm chain. These widths provide a more pronounced appearance without overwhelming the overall look.
Furthermore, personal style and individual preferences play a crucial role in the decision-making process. It's essential to consider factors such as neck size, facial features, and outfit choices to ensure the chain's harmonious integration.
Ultimately, the best chain width for men will vary depending on their unique characteristics and desired aesthetics. Whether it's a subtle accent or a daring focal point, the right chain width will enhance a man's style, exuding confidence and timeless charm.
WINNER: A 2mm-4mm width chain is the best and most popular width for a mens chain overall
RUNNER UP: The 2nd most popular width chain for men is 5mm-7mm
The below shows a side by side comparison of some of the different width chains available for men:
Which Colour Chain is Best For Men?
Choosing the right colour chain is a crucial decision that can significantly impact your overall look and style. When selecting the perfect mens necklace colour, there are a few factors to consider that will help you make an informed decision.
1. Skin Tone: Your skin tone plays a vital role in determining which necklace colour complements you best. Generally, warm skin tones (with yellow or olive undertones) tend to look great with gold or brass-toned necklaces. On the other hand, cool skin tones (with pink or blue undertones) often suit silver, white gold, or platinum necklaces. If you have a neutral skin tone, consider yourself lucky, as you can pull off both warm and cool-toned necklaces with ease – silver or gold the decision is yours!
2. Personal Preference: While skin tone is a helpful guideline, personal preference should always be a primary consideration. If you have a strong inclination towards a specific colour, go for it! Your confidence and comfort in wearing the necklace will ultimately enhance your overall style and appearance.
3. Occasion: Think about the occasions or events where you intend to wear the necklace. For formal or sophisticated settings, classic gold or silver necklaces can add an elegant touch to your outfit. On the other hand, if you're looking for a more casual or bohemian vibe, stick with silver or gunmetal.
4. Versatility: If you're looking for a chain necklace that can easily match a variety of outfits, opt for a neutral colour such as silver or gold. These colours are incredibly versatile and can seamlessly transition from day to night, from casual to formal wear.
5. Clothing Colour: Consider the colours of the clothing you typically wear. A complementary necklace colour can enhance your outfit, while a clashing colour might create a disjointed look. For example, a silver necklace can beautifully accentuate cool-toned clothing, while gold pairs well with warm-coloured attire.
6. Gemstones or Accents: If you're choosing a necklace with gemstones or decorative accents, take their colours into account. A gemstone with your birthstone or a favourite colour can add a personal touch and make the necklace more meaningful.
7. Trend vs. Timeless: While trendy colours can be fun and stylish, classic necklace colours like silver and gold are timeless investments. They will remain stylish for years to come and can be easily passed down as heirlooms.
Choosing the right colour necklace is a combination of considering your skin tone, personal preference, the occasion, and the versatility of the colour. Ultimately, the perfect necklace should reflect your style and enhance your confidence. Whether you opt for a classic silver or gold piece or decide on a bolder colour, embrace the chain that speaks to you and complements your unique sense of style.
WINNER: Ideally get one of each; silver, gold and rose gold! If you're still unsure, the most popular colour for a mens chain is silver due to its timeless appeal.
RUNNER UP: Gold
Material Matters:
Choosing the right material for your chain is essential for both style and durability. Here are some commonly used materials available at Alfred & Co. London:
a) Stainless Steel: Stainless steel chains are renowned for their durability, affordability, and resistance to tarnish. They are an excellent option for those seeking a modern and rugged look. A key advantage of stainless steel over sterling silver is that it is much stronger, 100% waterproof, and much more durable overall – stainless steel lasts longer and retains its overall shine for longer than silver. It's for this reason that stainless steel is the preferred choice material for a men's chain instead of sterling silver!
b) Sterling Silver: Sterling silver chains are elegant and timeless, making them a popular choice for men. They offer a brilliant shine and pair well with various outfits. Overtime sterling silver will inevitably begin to tarnish and lose its brilliant shine due to the oxidation process which takes place.
c) Gold Plated: For a touch of luxury, gold-plated chains are an excellent option. They offer the look of gold at a more affordable price point.
WINNER: Stainless steel is the best material for a men's chain due to its durability and ability to retain its lasting shine.
RUNNER UP: Gold Plated chains are a highly popular men's chain due to their luxurious appeal.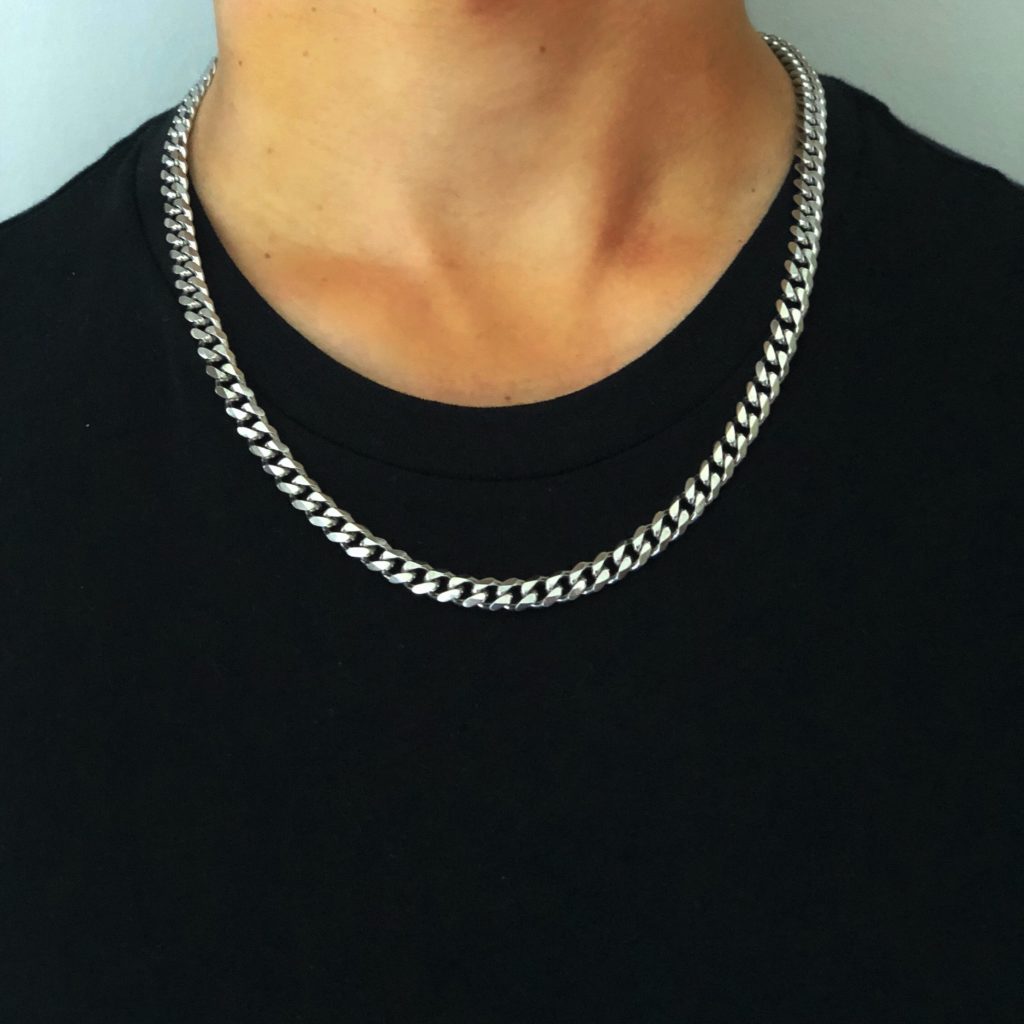 Stainless Steel Chains
A stunning selection of stainless steel chains and necklaces by Alfred & Co. London.
Made from premium grade surgical stainless steel, all of our steel chains are 100% waterproof, 100% tarnish-proof and come with a lifetime warranty.
Elevate Your Style!
Styling Tips for Men's Chains & Necklaces:
a) Casual Look: For a laid-back, casual outfit, pair a simple chain with a t-shirt or an open-collar shirt. A chain always works unbelievably well when layered with one of our stylish pendant necklaces.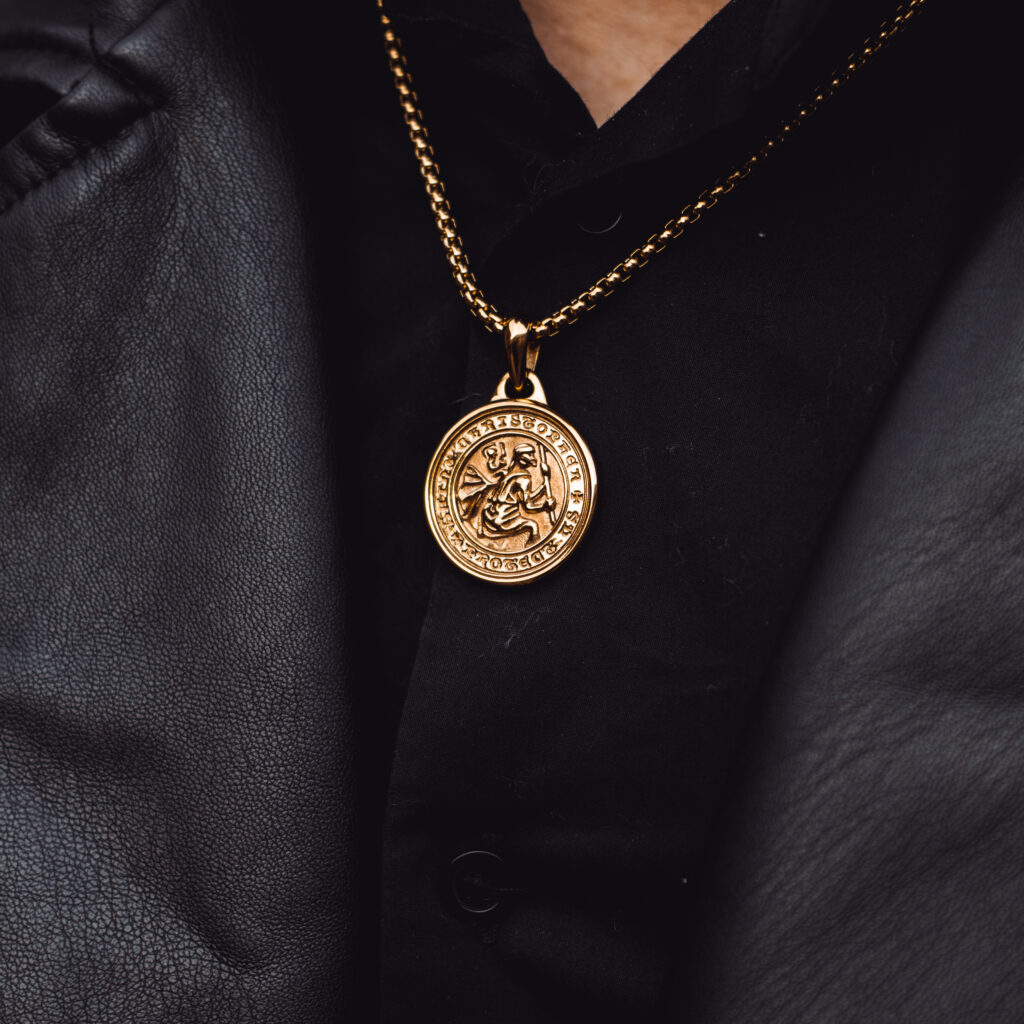 Men's Pendant Necklaces
Express yourself freely & show the world who you are with a stylish men's pendant necklace.
Elevate Your Style.
b) Formal Attire: To elevate your formal attire, opt for a more refined chain, such as the Thin ice chain or another one of our slimmer/minimal styles.
c) Layering Chains: as already mentioned above, experimenting with layering is a great way to showcase your personal style. Combining different chain lengths and styles, like the Rope Chain paired with the Compass necklace can create a fashionable and eye-catching look.
WINNER: LAYERING LOOK
RUNNER UP: CASUAL
Summary:
Men's chains and necklaces are versatile accessories that can elevate any outfit, adding a touch of individuality and style. By understanding different chain styles, choosing the right length and material, and following simple styling tips, you can confidently incorporate chains into your wardrobe. Alfred & Co. London offers a wide range of men's chains and necklaces, each crafted with precision and quality. Explore our full men's chains collection to find the perfect chain that complements your style and expresses your unique personality. With the right chain, you'll effortlessly exude confidence and style in every situation.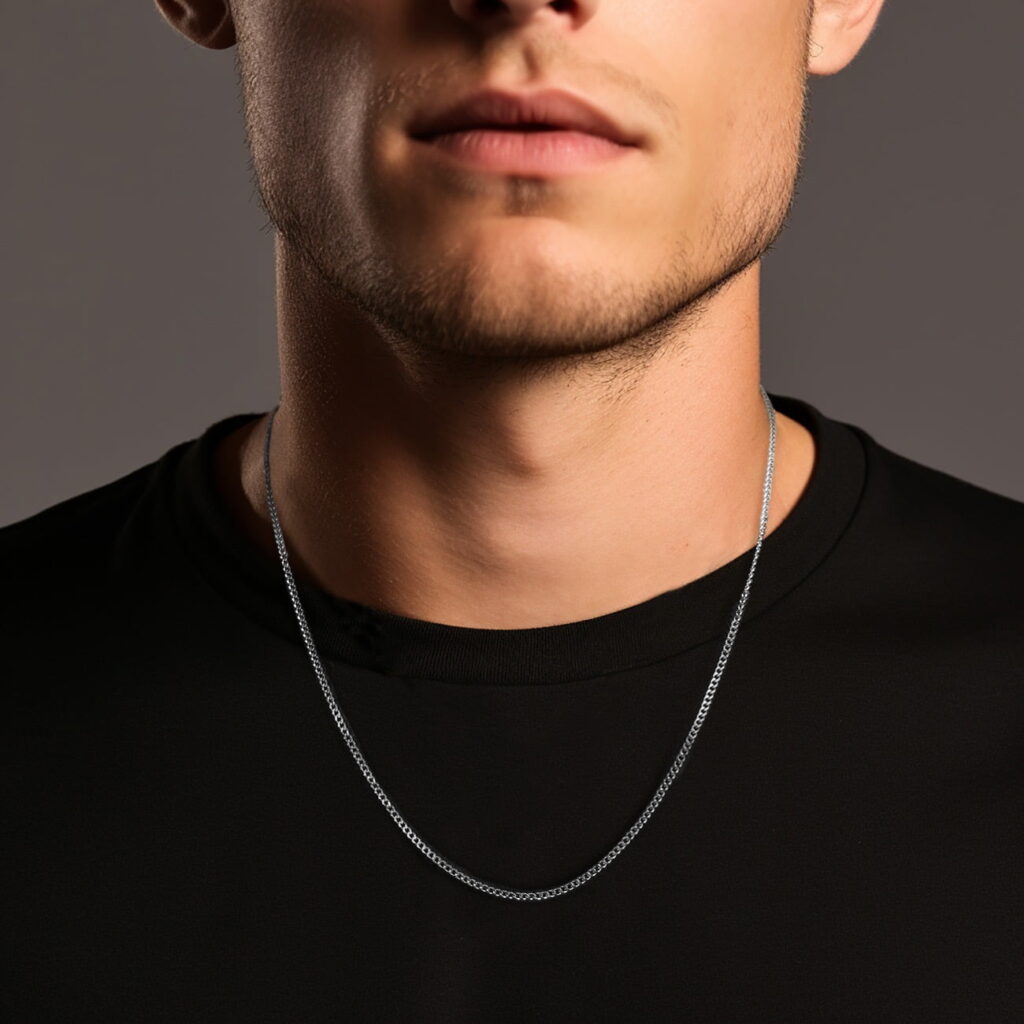 Mens Chains | Necklaces
Mens chains & necklaces to sharpen up your look.
Elevate Your Style.