Guys have a lot of choices when it comes to chains & pendant necklaces, from simple and subtle to bold, bigger statement pieces. The chain necklace is one of the most versatile styles because it's easy to wear with different outfits. And all guys can pull off this look – from formal pieces to less dressy styles. To determine which length of chain necklace is best for you, you should consider two things: how long you want your necklace to be and what type of setting will complement your attire best. This is why Alfred & Co. London created a complete size guide that will help, especially with online jewellery shopping. Keep reading to learn more!
Let's take a closer look at different lengths
Men's chain necklaces come in a range of lengths. The most common is 20 inches, then it goes up by two inches until it reaches 36 inches. This means you won't have to worry about getting a specially-made chain since there's one out there for everyone. If a man wears a chain with a 20-inch length, it will fall around his collarbone. This length is considered the best place for a chain to lay. If you want to wear a crewneck or v-neck shirt, the chain won't compete with or get lost in the collar. It also won't fall between any buttons on his shirt if you are wearing an unbuttoned button-up. It's best to choose the proper length for your chain based on your body shape as well as your height and neck size.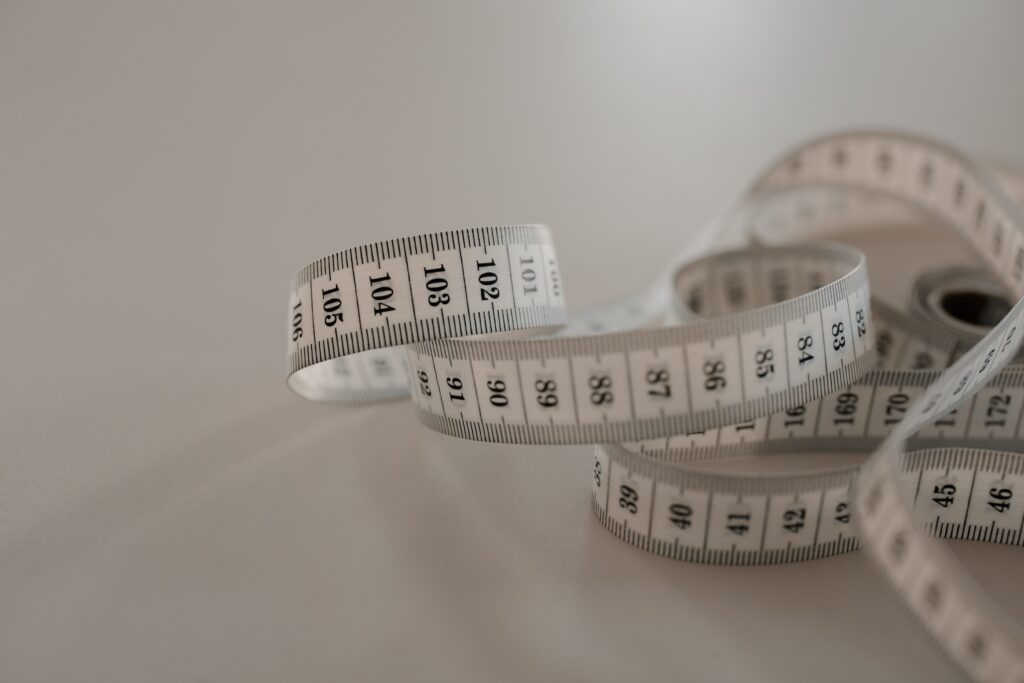 Complete Size Guide: Choosing a necklace based on your figure
Necklaces come in a variety of lengths, so it's important to pick one that complements your body. If you have a long neck, for example, you could wear a shorter necklace than someone with an average-length neck. Also, consider your height and face shape so that your necklace won't make you look shorter or bigger than you really are. If you're under 5'3", a twenty-inch chain may feel too long for your frame. Settle on an 18-inch chain that sits around your collarbone. If you want to wear your necklace lower down around your neck, go for a 20 inch or 22 inch chain. Anything shorter than 18 inches would likely fall short on most men; it's best to let it rest on your chest rather than around the base of your neck. The best thing is, our gold Figaro chain necklace or our popular men's silver chain ice© model comes in a variety of sizes, and you can make it work for your figure – use the below men's chain length chart to get a true realistic idea of how your necklace will look on you: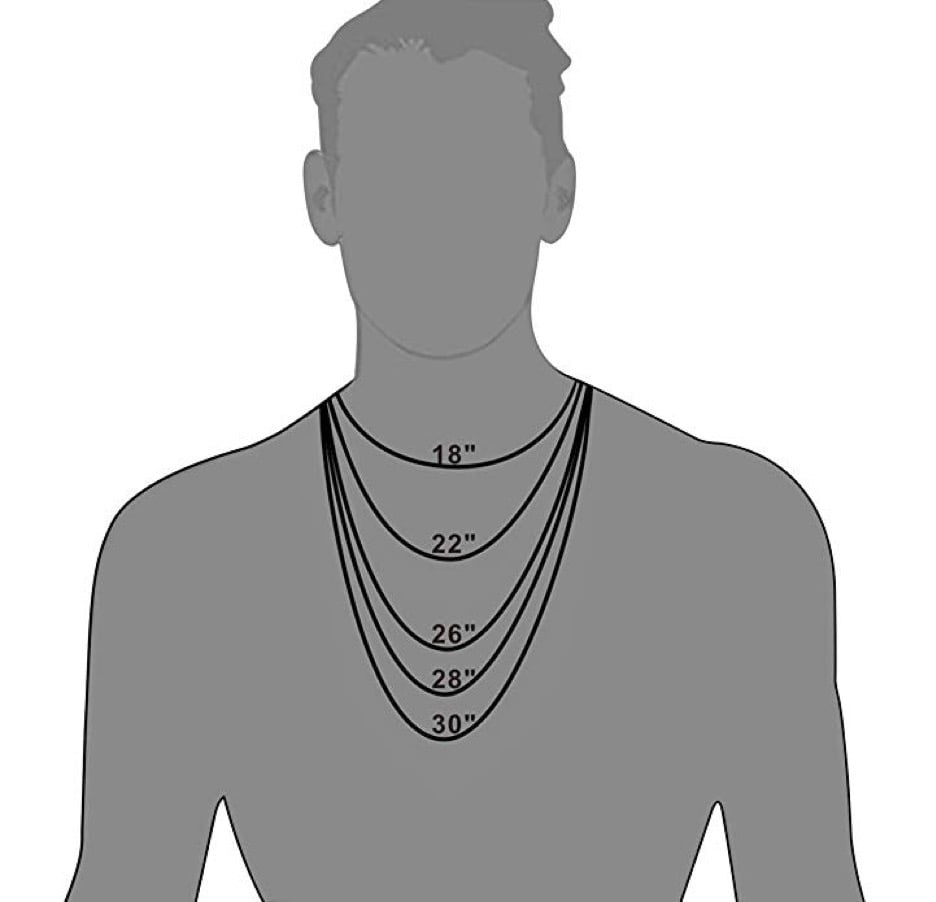 Does size matter?!
There are a variety of chain widths and thicknesses for men. The most common is between 2mm and 7mm in width, corresponding to a man's neck size, body type, and the purpose of the chain. A 2mm width has a thickness similar to a small headphone cord; a 6mm width has a thickness similar to a pencil, and anything above 10mm is a statement piece to draw all eyes on your chain. A 10mm Cuban chain is perfect for a night out in town when you just want to stand out from the crowd. So our final answer is YES, the size of a necklace does matter 😉.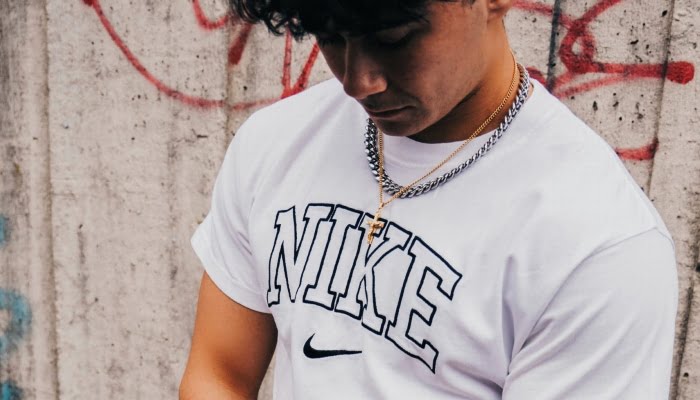 The proper length for pendant necklaces
As a part of a complete size guide, you need to figure out what is the proper length for a pendant necklace. To summarize, the standard length for a necklace is between 18-20 inches, which falls between the top two buttons on your shirt. However, if you're wearing a pendant with the chain then it should be between 20-22 inches long, which means that your pendant will sit squarely in the middle of your chest. However, in recent fashion more and more guys aren't afraid of wearing pendants will any length.
Best chains for pendants
If you're looking for a necklace to pair with a pendant, rope chains are the most popular option. They have a simple design that makes them appropriate for almost any type of pendant. Rope chain necklaces add a rustic touch to an outfit and they go well with avant-garde pendants and other items with a playful look. These chains are also among the most durable you can find and they will last for years. Wheat chains feature oval links that look like wheat tips and these delicate chains complement smaller pendants well. Box chains are another excellent choice to hang pendants on, largely because they have a sturdier look so they're perfect for pairing with larger or more substantial-looking items.
Complete Size Guide: Final thoughts
Alfred & Co. London works tirelessly to provide you with all the tips and tricks for choosing and wearing men's jewellery. We have also created this complete size guide, that will help those who are just starting their collection, but also those who are already experienced fashionistas. If you are still wondering what necklace size you should pick, it's a good idea to check out our men's chains for some inspiration. But remember, wearing jewellery is an art form and a way for you to portray your own true self and style. So chose the length and the necklace that will fit your aesthetic most!
In this article we have focused on men's chain sizes – however, if you're interested in finding out more about men's chains and necklaces in general you can always read our Ultimate Guide to Men's Chains & Necklaces article. And for some high-quality men's jewellery, make sure to check out some of the Alfred & Co. London styles for some awesome pieces: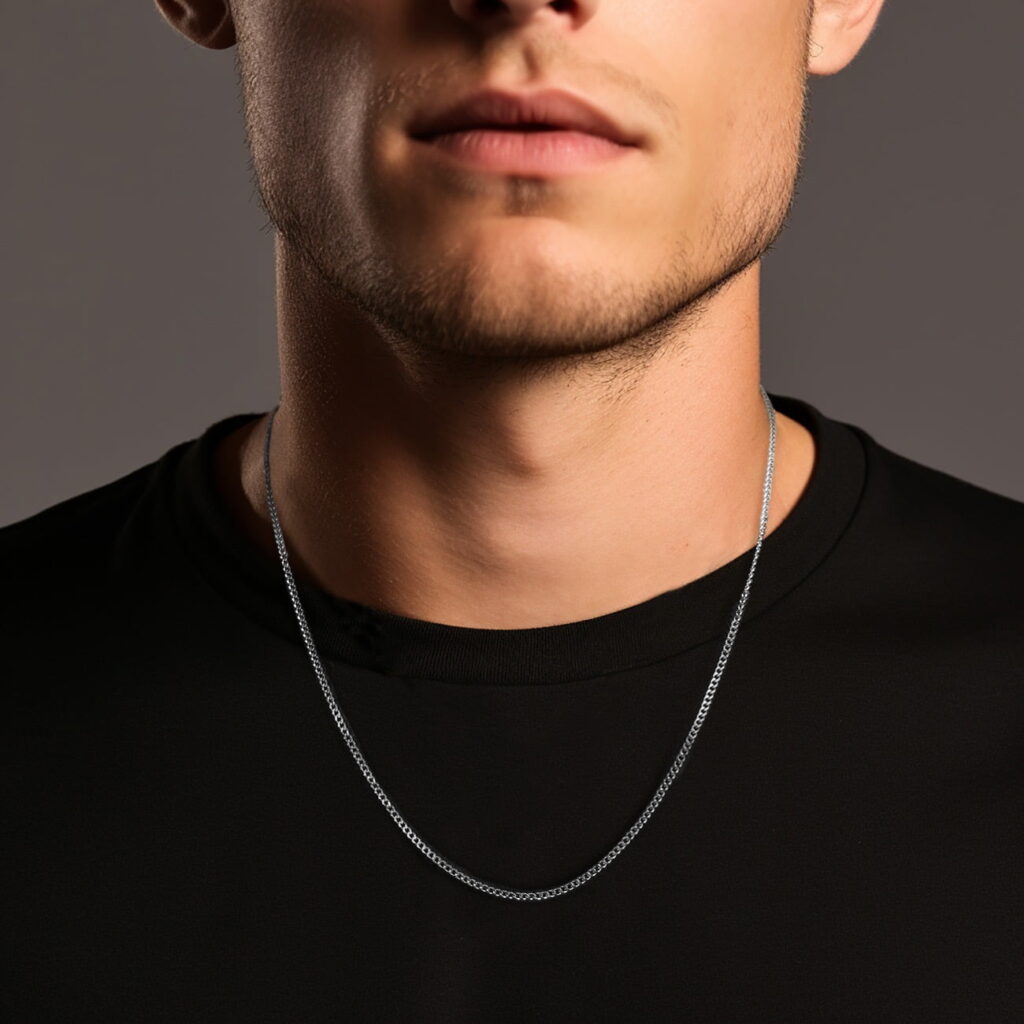 Mens Chains | Necklaces
Mens chains & necklaces to sharpen up your look.
Elevate Your Style.