Halloween is right around the corner, so if you want to get in the spooky spirit, let us introduce you to some of our favourite pieces of skull jewellery. At Alfred & Co. London, we love jewellery that is meaningful and tells a story. The skull is a powerful symbol that can mean many things to different people. It's associated with life, death, resurrection, enlightenment, and many more. But today we're not going to focus on the spiritual significance of the skull. We'll talk instead about some trendy ways to wear skull pendant necklaces.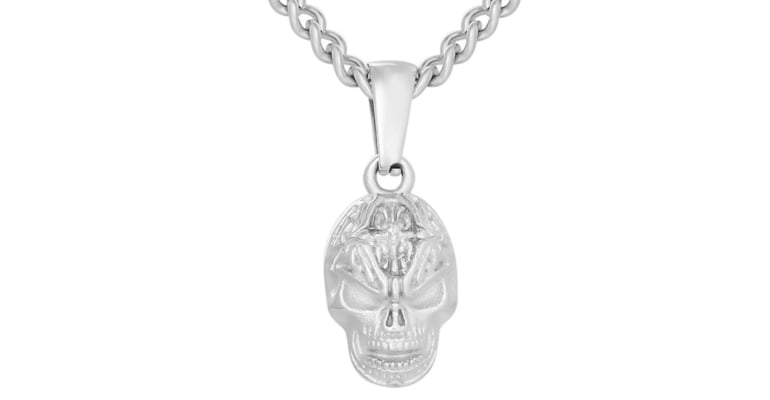 Chose a suitable metal for your jewellery
The debate over which colour of jewellery to choose—gold or silver—is longstanding, and there's plenty of confusion about which metal will suit different people and different styles. If you are wondering what kind of metal to use for a skull pendant, silver is a good choice. This material and skulls seem to go together like peas and carrots. However, our gold skull pendant necklace is a one-of-a-kind piece that will for sure make a statement.
Ultimately, the choice of whether to wear gold or silver jewellery will depend on your own individual preferences, sense of aesthetics, and budget. Try experimenting with different metals and jewellery styles to discover what combinations you enjoy wearing. We believe that each person is an individual and has their own style. So our top tip is to be yourself; never try to be like anyone else.
Skull Pendant Necklaces: How to style it
Most people around the world stick to only two styles, the formal style and the informal style. The formal style is useful for bureaucrats and other professionals who need to use their language in an exact and precise way. The informal style is much more useful at home or for simple walks around the house. You may think it is inappropriate to wear skull jewellery at work. This is actually not the case.
Nowadays, skull jewellery is very stylish and finely crafted according to various tastes. Not to mention, skull jewellery allows you to express your individuality while maintaining a great sense of style. If you're someone who prefers to stick with a single fashion style for a long time, skull jewellery will be a perfect match for you. Wear it with a simple black tee or a white shirt to work- and you will stand out from the crowd. Pair it with our silver skull & bar bracelet for a complete look.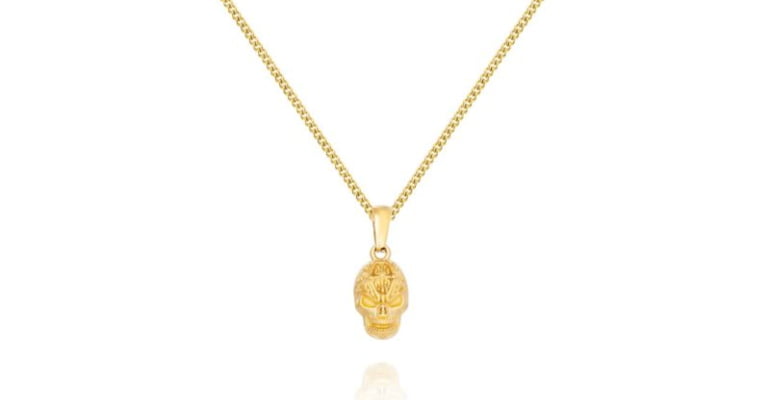 Buying skull jewellery is a fun way to add a little edge to your wardrobe
Skull pendants are timeless ornaments. Though elements and shapes may change over time, the general appearance remains the same. This means you will be able to wear your silver skull pendant necklace for years without worrying about looking outdated. It is a great option for long-term use. And the price of silver jewellery won't hurt your wallet! Alfred & Co. London created both gold and silver pendants, unique pieces for those who have the courage and strength to walk their own path bravely. Skull pendants are great accessories for men, and not only do they look cool but they're affordable too.
How can a skull pendant necklace complete your wardrobe?
Want to express your individuality? Wear skull jewellery! The best reason for wearing it is the opportunity to make yourself stand out from the crowd. Skull jewellery is a great way to make your outfits special and unique, and express yourself artistically. If you're unsure of what products to choose in order to create a great skull accessory, we can help you out. Alfred & Co. London has a great team you can contact for any questions. Elevate your style and your wardrobe with one of our unique pieces.
Final thoughts: Is a skull pendant the right choice for you
Skulls have many meanings. Some people use them in artwork, fashion, and design. Other people wear them as tattoos to express their courage or strength. We believe that anyone who likes the rich symbolism of certain motifs and appreciates interesting designs will appreciate a skull necklace. Skulls complement your look in a way that is original and exciting. No matter what style of clothing you adopt, you will have no difficulty finding skull accessories that will suit you perfectly.
Whether it's for a walk or going to an important appointment, you have an infinite choice of jewellery. Wearing accessories like these is a fun way to express your masculinity and get attention from others. Hesitate no more, and get one of our skull pendant necklaces. Check out our Instagram page and be a part of a community that celebrates complete self-belief and confidence.