Our latest sterling silver bangle design is here and now available in stock. This stunning unisex sterling silver bangle has a unique triple parallel black stripe style which adds a cool blend of balance & coolness.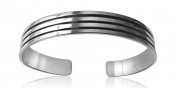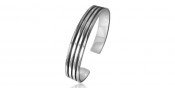 Made from premium 925 sterling silver, and weighing approximately 25 grams, this bangle looks absolutely fabulous when worn. If you're looking for a stylish silver bangle, this beautiful sterling silver bangle is an excellent choice.
This sterling silver bangle comes with a luxury Alfred & Co. Jewellery box and we offer a free shipping option on all of our silver bangles. Priced at an incredibly low £89.99 (£189.99 RRP) this sterling silver bangle is both stylish & affordable at the same time.