Football cufflinks – the coolest gift for men who love both sports and fashion
Need some inspiration for cool men's gift ideas? Forget about the eternal "manly gifts", such as perfumes and aftershaves – they are overrated and have become somehow trivial over time. Belts and ties? Predictable and kind of risky, if you don't know the exact size and preferences of the recipient. The latest smartphone or tablet? It could be a nice gift, but not all men are gadget-freaks and fashionable electronics are pretty expensive after all.
If you want to give a wonderful surprise to the man you love or someone you care about, we believe you should give him something manly and sophisticated, delicate but bold, unexpected and practical. That's why a special pair of cufflinks will make the perfect gift idea for all stylish men who like to dress to impress and love to make bold fashion statements.
Cufflinks have come a long way since four centuries ago when they emerged into the world of fashion as one of the few acceptable items of jewellery for men. Once worn only by aristocrats, cufflinks are now stylish accessories for all men with self-confidence and a great sense of fashion. Cufflinks are no longer suitable only for ceremonial and formal events, but have become popular with contemporary chic outfits men wear on more casual occasions, such as parties and business meetings.
While cufflinks for ceremonial and business outfits are sober and elegant, with classic colours such as black, white, silver and gold, casual cufflinks come in various shapes, sizes and shades to instantly add a touch of style and elegance to any casual shirt. Sophisticated and elegant, this little piece of jewellery is the simplest and most efficient way a man can add elegance and class to his appearance.
Why are cufflinks the perfect sports gift idea? While some men may be reluctant to wear formal cufflinks, none of them would say no to cool funky cufflinks that express their passion for sports. Even a man who doesn't usually wear cufflinks with his business suits, he would surely appreciate a pair of novelty football cufflinks he can wear with his casual shirt and jacket when going out with friends or at some casual party. Here are more reasons football cufflinks are ideal football gifts for stylish men: –
Cufflinks are practical. Men and cufflinks are like women and their passion for bags – one can never have too many! Not to mention the same shirt can be reinvented over and over again with different styles of cufflinks. Therefore, cufflinks are perfect gifts and practical accessories for every man's wardrobe.
Cufflinks are stylish and sophisticated. These little pieces of jewellery are a great way to emphasise the personal style, refinement and personality of the wearer.
Cufflinks are must-have accessories for men. Just like ties, bows and belts, cufflinks are indispensable accessories for the male wardrobe. They are suitable for all occasions, from formal to casual, and a great way to add splashes of colour to every stylish outfit. You will notice that ALL stylish men wear cufflinks – just look at the likes of David Beckham and Leonardo DiCaprio!
Cufflinks are the classy way to express passion for football. As sports and fashion go hand in hand and since all men love football, you can do no wrong if you choose football cufflinks as a special football gift idea for the man you love or respect. Here are the funkiest and most original football cufflinks that can compliment a man's style as well as his passion for the "king of sports":
Cool Black and Silver Football Cufflinks
Silver cufflinks are always a classic and elegant choice and look great with a large variety of colours, from black and

white to neutrals and pastel shades. Check out the Mens Silver & Black Football Novelty Cufflinks. The round shape and chromatic combination between silver and black can be easily paired with casual shirts and suit jackets that come in classic colours such as black or white, elegant navy blue, neutral grey or pastel shades (light blue, beige etc.).

For an alternative choice, choose the Mens Silver Black & White Football Novelty Cufflinks, as they gently combine white with black and silver. With these cool sports cufflinks, your lover or friend can show off his passion for the beautiful sport of football and look stylish at the same time. An excellent football gift idea!
Football cufflinks with a stylish twist
If football shaped cufflinks can't suit everybody's taste, a fashionable man with specific attention to detail may require a more bold and out-of-the-way type of cufflinks. For example, Alfred & Co.'s Silver Referee Whistle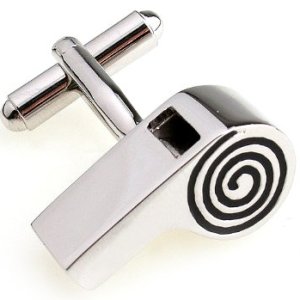 Cufflink's are both stylish, versatile and easy to mix & match with casual clothing in order to create fresh and elegant daily outfits. The silver whistle features a delicate spiral design that adds a modern twist to this classic men's accessory. The Silver Referee Whistle Cufflinks look fantastic when paired with white casual shirts, dark coloured suit jackets and a pair of comfortable light blue jeans.
Just like silver, gold is a classic colour when it comes to cufflinks. Golden sports cufflinks are must-have accessories for every sports fan with a flair for fashion. And these Mens Gold World Cup Football Novelty Cufflinks from Alfred & Co. are the ultimate football gift idea! The memorable matches and great goals from World Cup Brazil 2014 (remember Robin van Persie diving to score a wonderful header against Spain, or David Luiz's spectacular 30 yard free-kick in the match against Colombia?) are still fresh in the memory of every football fan, so these World Cup cufflinks are an excellent football gift idea for men. With two delicate green lines that make the golden colour stand out even more, these football cufflinks look great when paired with brown clothing and accessories but also work just as well with a simple white shirt. Black, indigo and white chromatic combinations are also very stylish and modern.
Classic and sophisticated football cufflinks with elegant touches of silver and gold, or colourful and funky with a modern twist, ultimately make an excellent football gift idea and sports gift idea.
If we have tantalized your fashion taste buds with any of these football gift ideas and sports gift ideas, why not browse our football cufflinks & sports cufflinks today?
To thank you for reading our blog, we would also like to offer you a 10% discount coupon voucher code; simply enter 22446688 at checkout and you will receive 10% off the cost of your order.
Kind Regards
Alfred & Co.