Are you looking for gift ideas for men?
There are lots of gift ideas for men and Alfred & Co. Jewellery are here to help you make a decision and choose the best option. We have drawn up a list of some of our best gift ideas for men, which will hopefully make your search for mens gifts a little bit easier. This list of gift ideas for men, isn't intended to include all men's gift ideas, but instead, this sample of what we believe to be the best gift ideas for men, will hopefully help to get the ball rolling when thinking about what men's gift idea would suit the person you are buying for.
There are many occasions where you may be looking for gift ideas for men; you may be looking for a men's birthday gift idea, men's Christmas gift idea or a men's anniversary gift idea. Alternatively, you may simply be looking to treat him as a nice surprise; after all, you don't necessarily need a specific occasion as an excuse to spoil him. Perhaps he just needs cheering up or may be you just want to show him how much he means to you? Whatever occasion it may be, selecting the right mens gift idea is crucial in ensuring he will be pleased with what he receives.
To start with, although we realise this may come across as a little bias, we have to say that we truly believe a nice men's jewellery gift makes a perfect gift idea for men. Take these stunning men's black & silver cufflinks for example.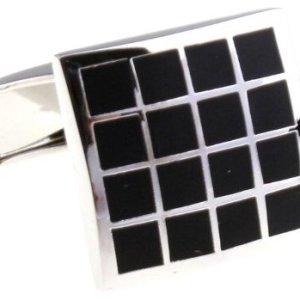 These beautifully stylish cufflinks are from our Premium Cufflinks range and work exceptionally well with a smart shirt. In our opinion, cufflinks really should be at the top of the list when looking for gift ideas for men. Or perhaps if you are looking for a men's gift idea which is a little less formal and has a slight twist to it, then you may find a pair of our Novelty Cufflinks are more suitable.
Our Novelty Cufflinks range includes a wide variety of different themed cufflinks such as Animal Cufflinks, Car Cufflinks, Motorbike Cufflinks plus a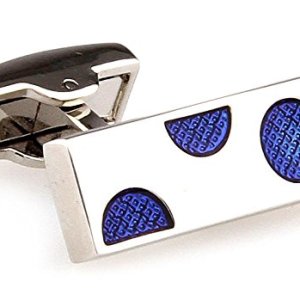 variety of other novelty cufflinks designs.
If you think he may like something a little more adrenaline fuelled however, and your budget allows for it, how about a car racing track day for a cool gift idea for men? The majority of men out there like their cars and a track day out driving high end cars like a Ferrari or Lamborghini would probably be something they would absolutely love.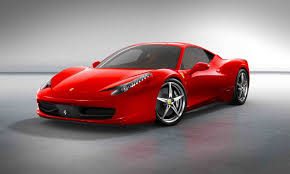 If the idea of a car racing track day for a men's gift idea is something that appeals to you, then our recommendation would be to start by looking at somewhere like the Silverstone website to get an idea on prices and then start from there. Silverstone may not be the cheapest option but it is a good place to start looking to get an idea of the different types of driving experiences on offer.
If neither a piece of men's jewellery or a car racing track day appeals to you as a suitable men's gift idea, then how about buying him a nice item of clothing? Clothing can make an excellent gift idea for men. Our first choice would probably be a smart shirt or jumper from Paul Smith. 
This beautiful navy Paul Smith shirt below has a Cupid's Arrow print design, which looks exceptionally sleek and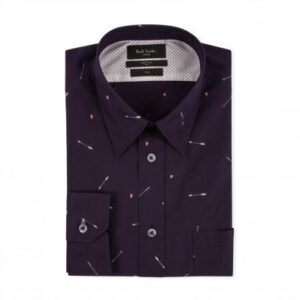 stylish. However with prices starting from £150.00, Paul Smith isn't the cheapest option; although if you can find a designer outlet near you then the chances are you will be able to find a Paul Smith shirt for much cheaper than RRP. The great thing about Paul Smith clothing is that they are constantly looking for unique cutting edge designs which really help to add to the glamour and mystic of donning one of these. Paul Smith also usually offer exceptional cuts, meaning the shirt will sit perfectly.
If a shirt doesn't appeal to you as a men's gift idea, then why not consider something else such as a jumper or jacket? Perhaps the man you have in mind enjoys playing sport or going to the gym; if so you can more or less guarantee he would be happy with a new pair of jogging bottoms or a hooded top – although we appreciate this isn't necessarily the most glamorous of suggestions for a men's gift idea, it is the sense of practicality which will appeal and ultimately satisfy him. Failing that, simply a pair of socks from M&S or better still Tommy Hilfiger – we love Tommy Hilfiger socks as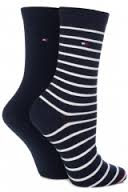 they have to be one of the comfiest pairs of socks around – and we talk from experience when we recommend these as a men's gift idea!
Okay so if a nice pair of cufflinks, a car racing track day, smart shirt, or a pair of funky socks don't appeal to you as a suitable gift idea for men, then fear not….we have more men's gift ideas to follow.
Our next suggestion for a men's gift idea is taking him to a restaurant for his favourite meal. As the old adage goes, the best way to a man's heart is through his stomach! Do a little research (by
simply asking him!) to find out what his favourite food is. A starting point here could be to take him somewhere like Gaucho's for a true tasting Argentinian sizzling steak. Gaucho's is a nationwide chain of steak restaurants which often receives rave reviews; and for good reason too! Their steaks are both sumptuous and delicious. If you visit the Gaucho's website, they even have a gifts section too where you can look at buying a gift card! Perfection!
Okay so far we have given you a few different gift ideas for men, however, each of these do have one thing in common – they each have a cost associated with them. Although we have tried to vary the costs of our suggestions,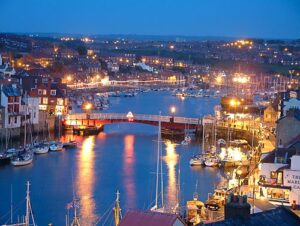 we appreciate that not everyone wants to spend money on an actual men's gift, and would prefer a cheaper gift alternative. So with this in mind, we thought we would throw in a different men's gift idea; how about a simple trip to the seaside? Whilst we admit this isn't a completely free men's gift option, as you do have to take into account petrol costs and the obligatory fish & chips with ice cream, it is still an alternative gift idea for men. Most men (& women) love going on a weekend cruise to the coast with the people they hold dear to them and it will also give you all the chance to build up more enjoyable memories which you can then treasure forever. Our first choice would have to be Whitby up on the north east coast; oh, and if you do decide on Whitby, don't forget to pay a visit to Magpie Cafe – often credited with serving up some of the finest Fish & Chips in the UK and worldwide!
Okay so now we've thrown in a cheaper alternative men's gift idea, let's continue with our remaining suggestions for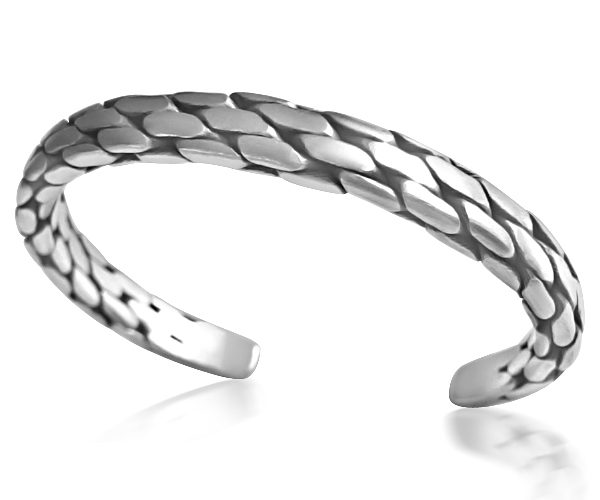 some superb gift ideas for men. Our next men's gift idea is following along a similar theme to what we have previously suggested; men's jewellery. Although this time, rather than a pair of cufflink's, how about a men's gift which is a little more extravagant such as a men's sterling silver bangle like this one on the left. Designed with both swarve and style in equal proportions, this men's silver bangle looks absolutely magnificent. The unique outer intertwined rope design adds almost a gravitational defying feel to this extraordinary men's bangle.
Silver bangle's are are hugely popular fashion accessory for men, and for good reason too. A men's silver bangle helps to add style, sophistication and even sex appeal. A silver bangle worn by a man show's he cares about his appearance, about the finer detail and he isn't afraid to show it. At Alfred & Co. we stock a wide range of men's silver bangles so why not browse our full range of men's silver bangle's or men's silver bracelet's today and see if there is one that takes your fancy.
Our next men's gift idea suggestion will again appeal to the adrenaline junkie in him. It's almost every man's fantasy to be able to fly, just like superman! And that's exactly what this men's gift idea will achieve; indoor skydiving! Okay well not quite exactly, but it's close enough right? Airkix is an indoor skydiving centre based in either Manchester,
Basingstoke or Milton Keynes. At Airkix they utilise the power of wind tunnels to circulate air into a chamber in which you can essentially fly. It is absolutely fantastic fun and receives rave reviews. With prices starting from only £29.99, and with various different packages on offer, it really is a wonderful and fun day out without costing the earth!
In summary, there are a wide variety of different gift ideas for men out there, each with their own advantages and disadvantages, whether it be cost, size, or practicality. Ultimately we hope the above list of gift ideas for men will at least help to get your creative juices flowing when trying to decide what would be an ideal men's gift – why not even looking at combining some of the above gift ideas for men if you really want to spoil him!! We truly hope that this list of our gift ideas for men will help you when trying to choose your next men's gift idea.
To thank you for reading our Gift Ideas For Men blog, we would like to offer you a 10% Coupon Code for ALL Alfred & Co. jewellery – simply enter discount code SHOP10 at checkout to receive 10% discount.
All the best,
Alfred & Co. Jewellery